Start: Centennial Fields Park, 39903 SE Park St, Snoqualmie, WA 98065
End: Centennial Fields Park, 39903 SE Park St, Snoqualmie, WA 98065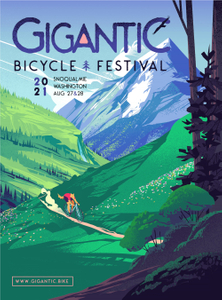 Details
The Pacific Northwest's Music & Arts Celebration of the Bicycle.
We've made some changes to the event program this year, but are excited to be back for an in-person Gigantic Festival and bike rides this August 27 & 28!
The event this year will be a two day, Friday through Saturday, at Centennial Fields Park in Snoqualmie, Washington. The festival and camp grounds will open at 5pm Friday. We'll be screening outdoor films in the park at dusk Friday.
Ride start for the Gigantic Century, 50 Mile, and 20 Mile will depart from Centennial Fields Park in staggered starts on Saturday morning beginning at 6:30am.
Family Friendly (distance, content, and pace is appropriate for kids)
About jesse
Discussion