Happens every Wednesday. Locations change so look out to @coffeeoutsidesea for updates each Monday.
Upcoming
About Coffee Outside Seattle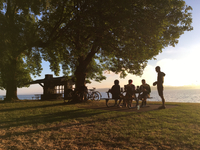 Every Wednesday morning we meet to make camp coffee, chat and hang out. Location changes weekly so keep an eye out for updates every Monday. The Details We meet at 7am (-ish) at the covered shelter near the bathrooms. Bring your camp coffee set-up or a thermos with a...
@coffeeoutsidesea
Coffee Outside Seattle